From United Airlines
I asked Gayle Robinson to recommend a lifting device for us to use in our waste systems cleaning room. Her recommended trolley lifter/balancer solved a safety problem for us at a reasonably installed cost. Her creative solution has no known drawbacks. We had looked at many other potential solutions, but none of them suited us...the others all had problems.
Gayle's quiet professional approach and helpful attitude got us the best solution the first time. She knew the right questions to ask, and responded fully to our own questions in a timely manner.
I appreciate Gayle's knowledge of the field of material handling. I'm thankful for her desire to fully meet our needs in the simplest, most economical way possible.
Sincerely,
Pete Hussey
Staff Representative, Engineering
From CAT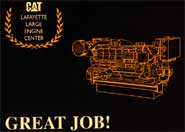 I would like to commend Productivity Resources for the outstanding performance delivered in designing and installing our "pilot cell" crane.
Gayle, Mike and Jessica gave us excellent service and went beyond normal to get all the equipment here and installed in our shutdown window.
Once again, I would like to thank all of you for a great job!
Sincerely,
Kevin Shaffer
Mfg. Specialist
From Gortrac
Thank you for your visit to our facility, I hope your time here was pleasant and gave you a better prospective of what we do here at Gortrac.
We have a wide variety of customers and products and this seems to draw me toward your company more and more because of the wide variety of products which your company sells that fit our criteria. The first thing that turns me off of a company is lack of response, but with your company I have always gotten excellent service, fast response and quotes that get here before I even expect.
You have a great staff supporting your company; it's always a pleasure talking to anyone at Productivity Resources and it seems that Jessica and Greg are always on the same page and willing to go the extra distance to meet our needs here at Gortrac.
Thank you and keep up the good work!
Frank Houchens
Fabrication Team Leader
Gortrac Manufacturing